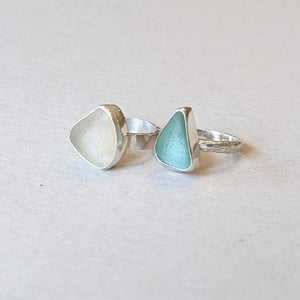 In this full-day workshop, you will learn how to make a stunning sterling silver ring set with a beautiful piece of sea glass.
Running from 10.30 am - 5.30 pm with a short break for lunch, feel free to pop to one of the lovely cafes on Wellfield road, bring a picnic to enjoy in Waterloo Gardens, or stay in the gallery.
You can bring along your own sea glass and I will check and let you know if it's suitable to use (not all sea glass is made equal) or choose a piece specially selected from the River Taff.

If you would like to double-check you would be able to use your own sea glass before booking just pop me an email with a picture of the piece alongside a coin for size reference.
If you have a Weekend Workshop Gift Voucher you can use the credit toward this extended workshop and just pay the difference at checkout.
Learning in a group of up to 6 like-minded people, you will have a lovely creative time with other Cardiff locals.
This workshop is a perfect introduction for anyone keen to try jewellery making using traditional silversmithing methods. Amongst other techniques, you will learn how to:
Thread and use a piercing saw to cut metal
Use a jewellers bench peg
Solder a ring
Use a jewellers triblet
Make  a freeform cabochon setting
Polish your design ready to wear 
WHAT DO I NEED TO BRING? 
Nothing, I will provide you with all materials and tools. At the end of the session, you will have a completely unique piece of silver jewellery made entirely by you!
Can't do these dates?
Want to do this workshop but can't find a date to fit your schedule? Pop me an email as I'm regularly putting new dates up and can be very flexible. Alternatively. all my workshops are available to book for just you and your friends - check out the Private workshop page for more info.